Proud to be a Pie Corbett Talk4writing Training School
Open Morning: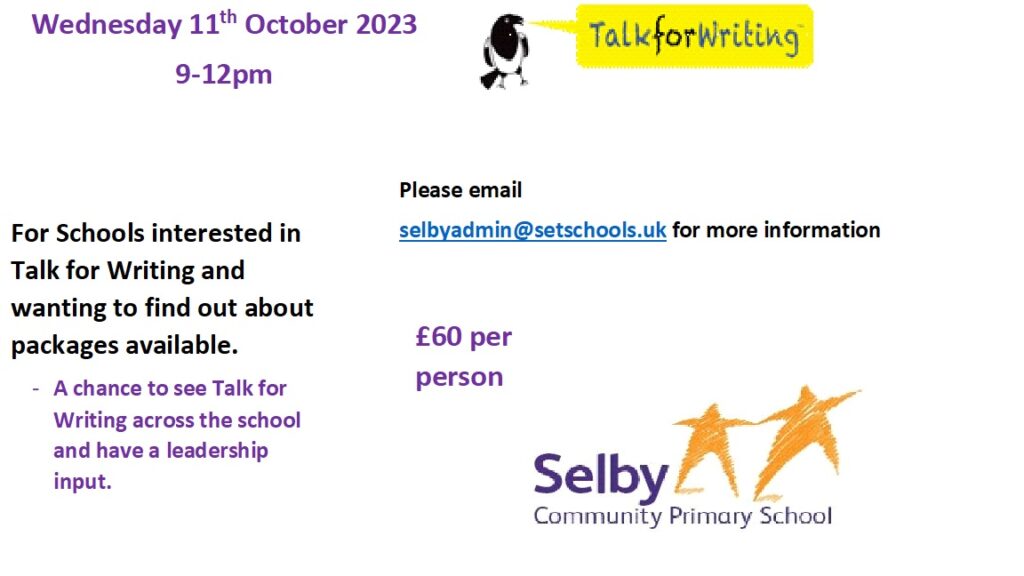 Observation Event: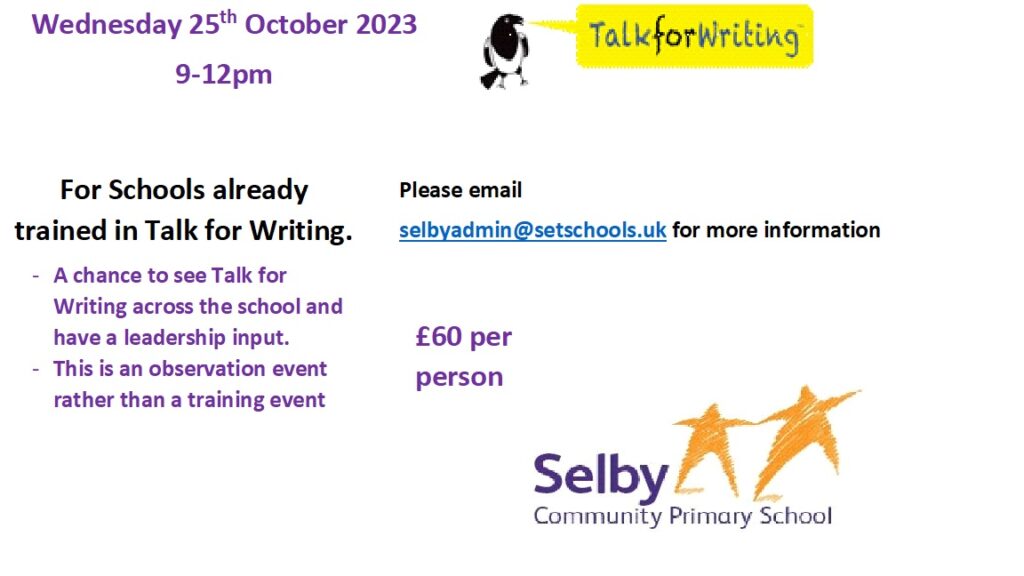 Selby Community Primary School are offering the chance to see teaching in a range of year groups and children's work, as well as meeting with the key storytelling staff to discuss anything from the following:
Imitate, Innovation and Independent Application
Audience, purpose, form
Developing toolkits for writing
Developing ambitious vocabulary
Embedding language games and activities
Supporting the development of writing with images, objects and story maps
Creating the Environment for TalkforWriting including celebrating writing
Nonfiction writing
Leadership of Talk for Writing
Effective feedback from staff and children including response to marking.
Whole school planning for Talk for Writing including the allocation of texts and language features across the school as we progress into the new curriculum.
Booking training
Our training is aimed at headteachers, teachers, subject leaders and teaching assistants. We are more than happy to welcome individuals from school or coach loads of staff! There will be a chance to find out the theory behind talk4writing and also see lessons and talk to teachers. Please book using the form below.
Here is our story so far…
Once Upon a School
Once upon a time an inadequate primary school at the bottommost part of North Yorkshire slumbered for many years awaiting a knight in shining armour to give it the kiss of life. Hundreds of golden beans were flung with little impact, not even a beanstalk.
Then, one sunny September, Cinderella arrived and found this school to suit. The role of literacy leader became hers. She swiftly set about tackling the literacy beast but no-one could help her. Until a chance encounter led her down the path to Pie's Palace!
Her charges began to believe progress could be made and if you listened hard enough you could hear the faint chant of 'imitate, innovate, independent application' permeating through the walls of school.
That is now a resounding celebratory cheer and the 47 dwarves at school continue to work as a team creating diamonds out of each and every child.